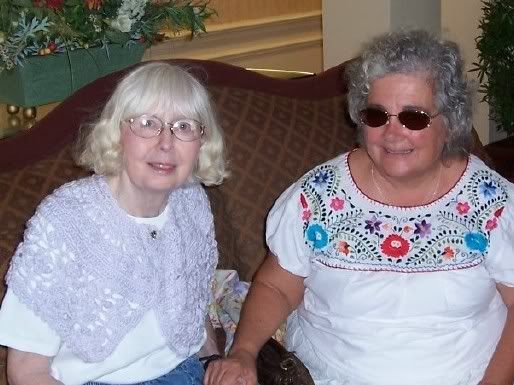 It's about time for an update, huh?... with the imminent move to Austin, I have been running around like crazy. Trying to see everyone in my los angeles "family", revisit old haunting grounds, and get my apartment, cat, car, and self ready for the big ole move to tejas!

My parents visited my Aunt Sheila in Cleveland where she is staying at a place specifically for those with alzheimers. It sounds like she is incredibly happy and comfortable. Enjoying things like yoga, music, and all of the activities they have.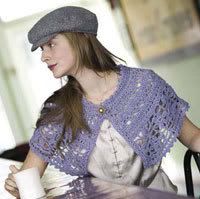 If you remember, I made her a shawl. To the left is the picture that came with the pattern from "Wrap Style" by Interweave Press.
It was a fairly easy pattern that worked up quickly, but looks lovely and complicated :)
Above, is my lovely aunt wearing her new shawl! She is sitting with my Mom who is wearing a top she bought when we were at Olvera Street (the original pueblo) for Cinco de Mayo.

Here are also some close ups of the shawl (previously posted)...