I started this purse last weekend during the yarn crawl that Teresa and I did through Pasadena/Monrovia. Like many of my projects, I started following a pattern and then found myself bored. Teresa and I were joking that the baguette was turning out to look like a little strawberry. So, I thought, hmm... why not just make it into a strawberry?
I added some green trim, a button, and a strap. Later I added some black seeds (after a bit of a discussion with friends on why strawberry seeds are actually tan but are always drawn as black).
Whether they should be tan or black, it still made for a darling little purse for a darling little girl.
Of course, after finishing the project, I realized that I didn't know any girls that were the right age for a strawberry purse -darling or otherwise. I was making fun of myself for finishing that project when I have tons of UFOs (unfinished objects) begging for attention. But, as the rule with things that are cute, the opporunity for the strawberry to be adopted arose immediately.
My co-worker Gretchen was going to meet her boyfriend's parents at his niece's 6th birthday. She had been going back and forth on attending (it's a wee bit of pressure meeting all the family all at once!), and suddenly the party was quickly approaching and a) she was going and b) she didn't have a gift.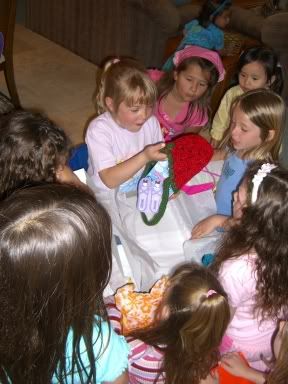 She was explaining her dilemna to me and I felt very much like a Stepford Wife, "You need a gift for a 6 year old? I'm sure I can find something perfectly suitable in my fully stocked gift closet."
Gretchen and Doug filled the strawberry purse with lots of 6 year old girlish trinkets and gifts. And apparently, she was delighted!
Happiness all around.