I reallyreally wish that I had these dog sweaters photographed on an adorable dog... but alas... You'll have to just pretend. I considered buying a life-sized plushie to model the sweaters, but then I figured Beethoven would tear the poor, defenseless toy to shreds before I ever got around to the photo shoot...
so imagine these on adorable puppies.
The great thing about these sweaters is that they work up super-quickly!
Camoflage Print

Sized XS in a pull over sweater. Let the neighborhood know that he's boss.

I used this pattern and only made small adjustments and made it in Bernat Camo yarn. It's pretty tiny, but I think it will fit a chihuahua nicely.

Lilac and Lace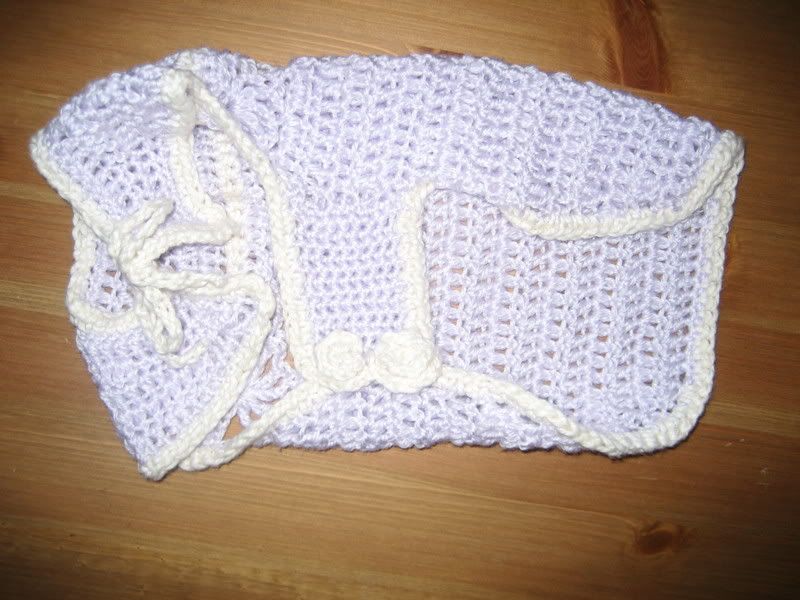 Sized S and fastens around the neck and tummy band. Pretty and sweet.

I crocheted this one in lavender (caron Simply soft) with cream trim (hobby lobby cottontots). It's a hybrid of several patterns with the addition of a lace stitch from a book of stitches that I have. I added a few buttons to close it and a bow at the neck. I used this free pattern as part of the pattern "suggestion"... but I took a lot of liberties with it.



Hot Pink Diva with Fur Trim
Sized S in a pull over sweater. She's Ready for her Close-up!
For this sassy number, I didn't use a pattern. I just used the other already made sweaters as a guide. this is the only one that isn't washable-- and that's because of the fur trim.


Fiesta Print with Sage Trim
Sized XS in a pull over sweater. Perfect for a Party Girl.
Lily-Cat is jealous because it isn't in her size.
I used this pattern with minimal adjustments and made it in red heart yarn... I washed it with fabric softener and a dryer sheet and now it feels nice and soft.

Pink Camoflage
Sized S in a pull over sweater. For the girl who's a bit of a tomboy.
Just updated with pictures. I made it in Rose Camo by Bernat. I was actually disappointed by this yarn because it barely looks camo since there are only two colors (pink and green) instead of three. Oh, well. I used this pattern again... but changed it up a lot... mostly because the camo wasn't striping well (it looked like a checkerboard!)... so I did different stitches... I'll take a picture tonight.
Thanks for looking!
Hope these items help raise money for lots of lil cuties.