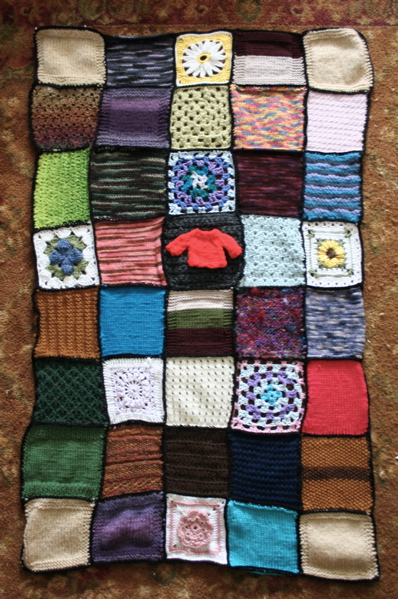 (above picture by Teresa Wong).

Moving away from a lot of friends in Los Angeles was difficult and there are times, especially recently, that I really wish I could be there for them.

My friend Kate's brother died tragically right before graduating from high school just a few weeks ago. Although I didn't know him, I know and love his sister a great deal. Kate and I would get together with Teresa to stitch over such broad genres as Pride and Prejudice, Sex and the City, Monsters Inc, Munich, and the Super Bowl. The three of us would stitch away and make snarky comments about whatever it was that we were watching. We would talk about life, the universe, and everything in it. Why boys can suck and how yarn can rock...
While we were living in LA within near proximity, Kate was studying some crazy smart stuff at UCLA for her Masters in some sort of science-y/chemistry-ish thing. She would talk about lab experiments in terms of baking cupcakes - which was a perfect metaphor so that I would be able to get it :o)
After I moved away to Texas (or perhaps, overlapping), Kate started working at a lab out in Camarillo and I think that what she is doing has to do with making sure that their company's cupcake recipe is replicated correctly at other cupcake bakeries. Or something like that. I know it has to do with cupcakes.
Anyway...
we would touch base now and again on what was going on with her... but you know, moving apart sometimes makes for long spaces between talking, quick emails here and there. And really, I was so involved with starting up in a new place, that I hadn't be in touch with Kate, Teresa, or many of my amazing friends from la la land as much as I had hoped to be.

Hearing the news about Kate's brother broke my heart. Although so many people talk about high school being the best years of their life... I just have so many memories of huge swings in emotion and just the overwhelming stress of all that I knew changing very quickly. I was excited and hopeful for the change... but terrified.
My senior year of high school, my friend Claudia's brother Robbie committed suicide over Christmas Break. He was a freshman at our brother school - a highly-lauded Jesuit school that my dad went to, cousins went to, various high school boyfriends went to...
Robbie was beautiful, smart, funny, and one of the few lil bros I didn't mind hanging around when I was with his big sister. I knew that he was having a hard time adjusting to high school... just didn't know why.
I found out about Robbie's death from a phone call from a mutual friend. A few days later, there was a full page article on the front page of the newspaper with a picture of Claudia and her family. The article explained that Robbie was mercilessly teased and bullied at school... and that he was gay and trying to come to terms with it with help from his family and a local GLB&T counseling center. He kept it as a secret at school and went to counseling after school. But he lived in fear of being found out...
and at his school the insults were, of course, all anti-gay. Cuz that's as creative as Jesuit kids usually get.
When Robbie died, I didn't know what to do or how to be there for Claudia. I felt completely helpless and just clumsy with it all.

10 years later, I feel exactly the same way with the death of Kate's brother. Just helpless and clumsy... and so far removed. I know more now from what I have read and what I have gathered from having buried a few other friends in the past few years. The one thing I have learned is that there is no such thing as a universal condolence when tragedy strikes. What I have learned is to listen and to let my friend who is suffering let me know what they need....
so if they call me and want to laugh, we laugh. If they call me and want to cry, we cry.
Being someone who often comforts myself by coming up with advice for others, it's hard to bite my tongue and just let it be all empathy. Cuz there really is no fixing death and grieving. It's just something that needs to run its course... so the best thing is to be a shoulder along the way.

After the news settled, I was talking with Teresa. "I feel so helpless, but I really want to do something... all day, I looked at afghan patterns online... but I don't know? Should I make her an afghan?"

"Did you get my email?" Teresa responded.

"Uh, no, I haven't checked it. Why? Were you thinking of doing the same thing? Because I can do something else..."

Teresa laughed a little, "Oh, no. You can make a blanket. It's just that I sent an email because I thought it might be a good idea for the members of Kate's stitch 'n' bitch to contribute squares. Then we can join them into a blanket to give to her from all of us. And if you wanted to, you could crochet a few... because although the others are mostly knitters, all of the squares will be different in yarn and stitch, so I think a few crochet ones will work fine."

Wow. Brilliance!

So, I set to work crocheting a few squares to be added by Teresa into Kate's blanket.

These were my contributions (pictures are clickable):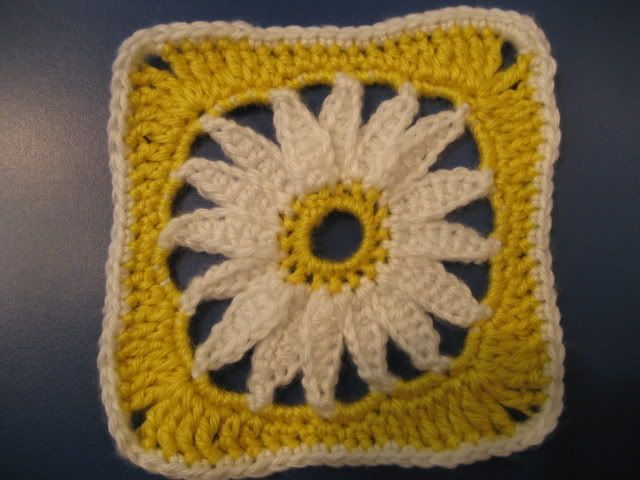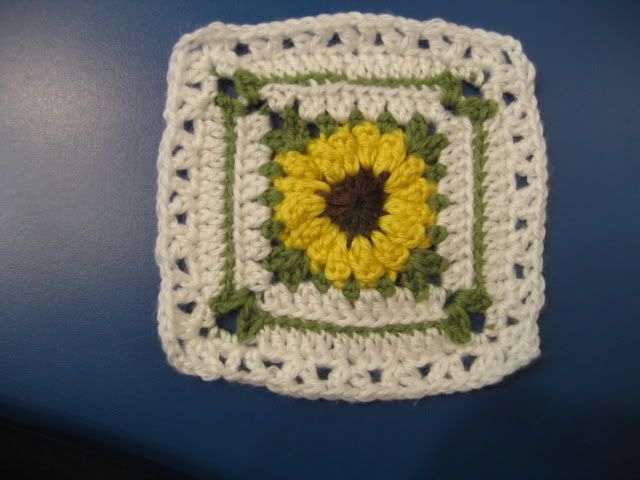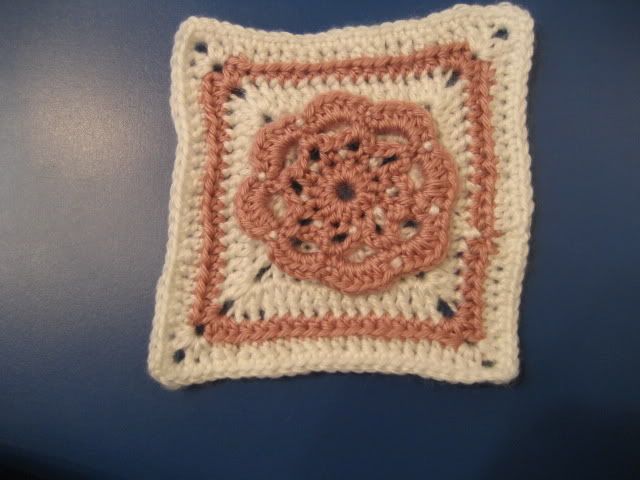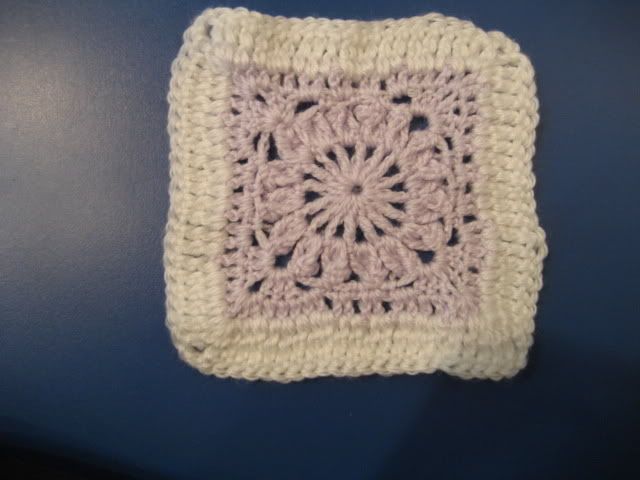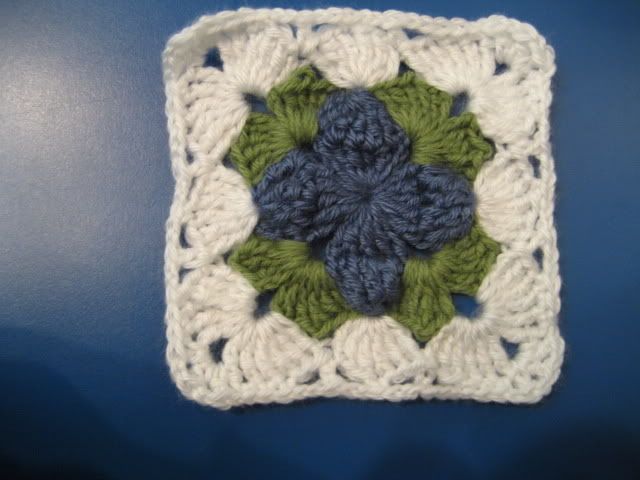 Obviously, this blanket isn't going to fix anything. But it is a nice gesture of love from all of her stitching friends to let her know that she is in our thoughts and hearts.