One of my sisters is due next month and I couldn't be more excited for her :o) Most likely, they will be having a lil' girl.. though, everyone knows that that is never 100%.
I started out wanting to make a few gender neutral items... but before long, I was making adorable mary jane booties.
I'm thinking that they can either cross dress the baby if it's a boy (yes, I kid)... or they can give the inappropriately gendered items to someone who is actually having a girl and I can stitch up some new items.
It started innocently enough with a baby blue cardigan... but then I wanted to add some trim and this beautiful lilac yarn was calling my name. Once I added it, I knew it screamed "girl".
Then, I wanted to make some cuff booties... and was eyeing my collection of baby yarns. This really soft, varigated baby yarn purchased months ago and used for this sundress for my niece Myla was calling my name.
I used a bootie pattern from Precious Baby Booties which I modified pretty minimally. The turned out a little lumpier than I wanted - but they are still cute. ;o)
Of course, Lily-Cat had to get in the preliminary shot (before I wove in the ends). She firmly believes that it is not a photo shoot unless her picture has been taken. I think she feels that she increases the value of those items pictured with her.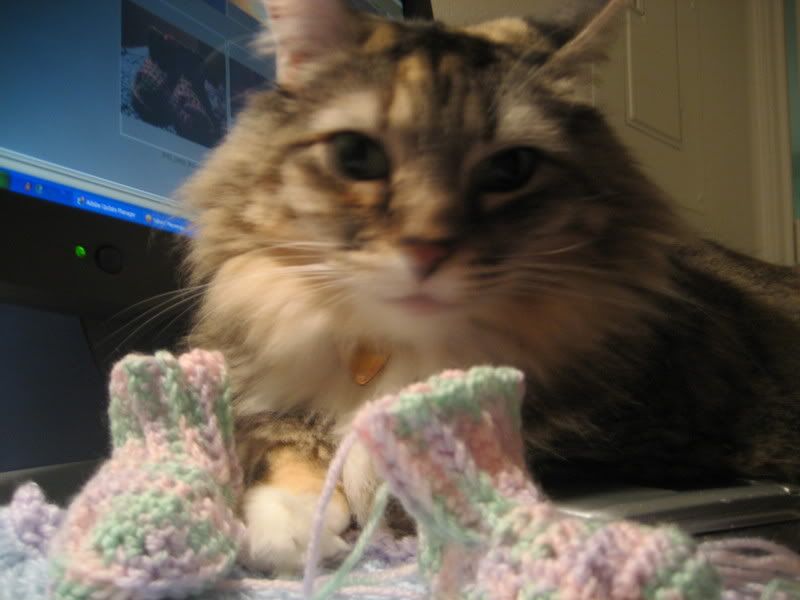 here they are, sans-cat.

Finally... the Mary Janes. Also from the same booklet... though, I changed these up a little more... Both sets of booties are tiny, with a 3 1/2" sole. I hope that they fit her feet!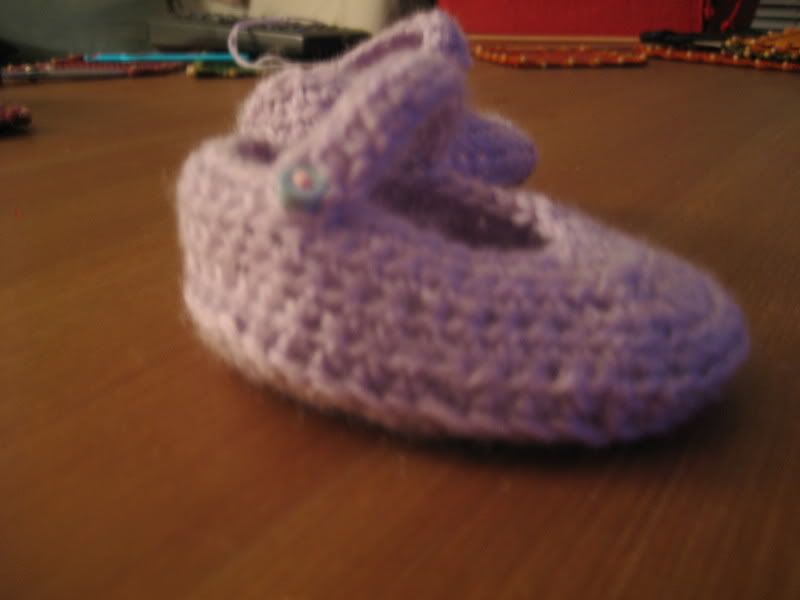 Congrats again to Betsy and Andy... they are going to make such great parents! I can't wait to meet the new lil one!!!