My current Crochet Projects are TOP SECRET works in progress for the holidays... so I figured I'd post on a new crafty obsession of mine!

I started taking some sewing classes at Craftorama on South Congress- this super-friendly, hip, fun shop.

My interest in sewing began when I made handbags a few years ago for Christmas. I wanted to line the bags, but had no idea how. I attempted to whip stitch them by hand, but the result was messy and the construction was shoddy.

Sewing machines seemed ridiculously intimidating to me not to mention prohibitively expensive.
But, recently, when I made my crocheted dress, I realized how great it would be to sew a dress that had crocheted embellishments or was lined. In addition, I've become interested in making more crocheted bags which I would love to line. And I also thought that understanding sewing patterns would help me with designing more crocheted clothing items.

So, I signed up for a beginning sewing class at Craftorama.

It was shockingly easy and a lot of fun. It was almost bizarre to me how fast I could make something. I frequently tease knitters whose projects take longer than my crocheted ones... but this machine sewing thing really beats all. I love it!

I made an adorable little tote bag in cowboy print.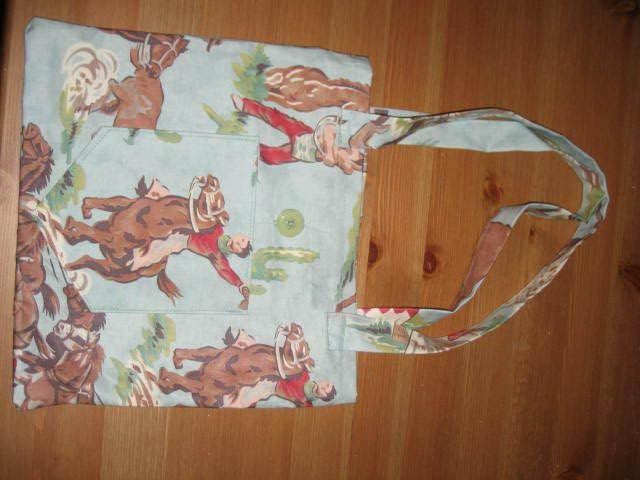 Isn't it fun?
Here is the back and the detail on the button and pocket.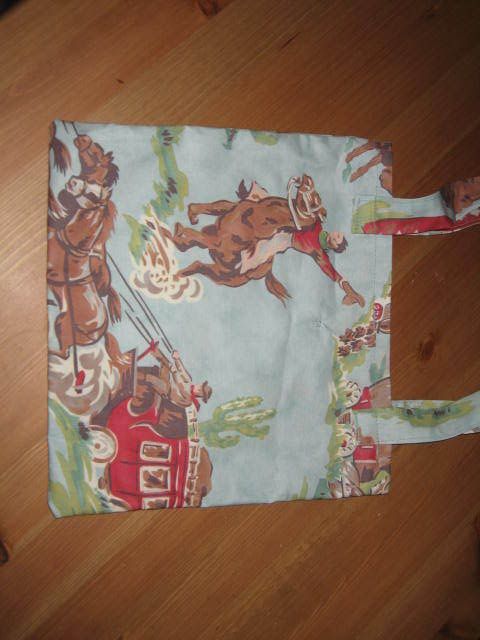 I just love it. It's a bit small to be at all practical, but it was a great
first project and it really got me excited to try more stuff. Of course, later that week, by some fluke, our holiday bonuses paid out early. I went to "just look" at the Austin Sew and Vac store around the corner from my apartment. They were in the process of packing up the store because they were moving 2 miles down the road that very week. The owners were there with their daughter and her toddler son. Her son was playing with quilt squares on the floor. Even though the store was somewhat chaotic, they were very helpful.

I was able to get a Janome 625 at a HUGE discount. It was used as a floor model at the Maker Faire in Austin and so was "out of the box". Originally, I had been planning on getting the cheaper, base model... but the 625 is one that I can grow into... not to mention with the discount, they were very close in cost.

The Sew and Vac store offers a free session on getting to know your sewing machines and are experts at fixing them. In their new space, they are going to offer lots of sewing classes and will have tons of fabrics.

I was still a little bit intimidated, though, so I decided to take another class at Craftorama to get more comfy with the machine.

I took a wrap skirt class and check this out!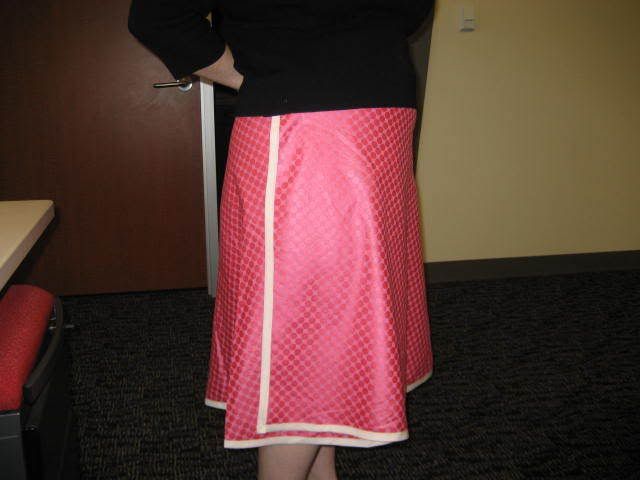 I totally want to make a ton of them. I think it'll be great practice at sewing straighter lines... and not only that, but the skirt is super cute and one size fits most!
whoop! whoop!