So after a few weeks of doing way too much, I decided last weekend that I needed a veg weekend. Just me, my kitties, some yarn, and the Gilmore Girls.
I had some caron simply soft on hand in autumn red and started stitching a tank top. I decided to do an empress waist with a lace skirt.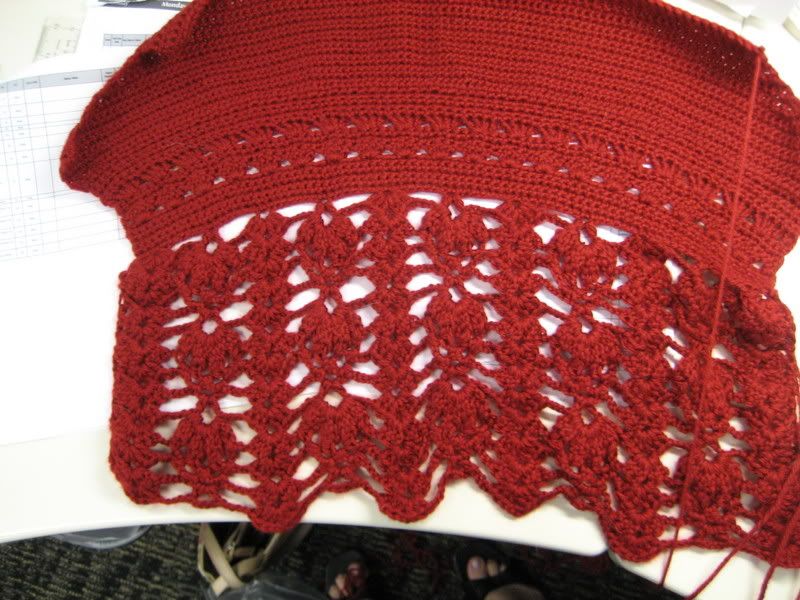 I took my measurements and did the lace skirt first, using the Strawberry lace stitch from my
Donna Kooler's Encylopedia of Crochet
.
Then, at my waist, I did a few rows of single crochet alternating with 2 rows of shells. For the bodice, I made it in single crochet to my measurements.

The results, weren't great. The top was too stiff and it was like wearing cardboard.
So, I ripped out the top and remade it in a net stitch. Though, I'm not 100% convinced that I like the results.
Regardless, I went on to do the back in the same way...
and then I tried it on again.
I decided to make the strawberry skirt longer... and then I got carried away. Eventually, I ended up making a dress instead.
The quality of these pictures is not great... but I will finish weaving in the ends and add the final touches and have a friend take some pics. The dress is a little more fitted than it looks in the pictures. but, I took the pictures myself in front in my kitchen... so... the quality leaves a lot to be desired. I think I'm going to add a few rows of single crochet to the bottom to make it lay flat... and I might be adding some sleeves.
If I figure out how to write patterns for wearables (ie, make adjustments for size), I will write this baby up.