I have started teaching crochet a little bit more seriously - meaning, I have gotten organized about it. I taught a group of friends a Hat Class a few weeks ago. Everyone was at different levels, but I think everyone had a good time... and there were some really awesome hats that were made in result. I'm hoping that some of my friends from that class (hint, hint) will send me pics of their finished projects so that I can share them here.

Anyway... teaching others how to get a hat started reminded me of how much I love to make them. They are so quick and so easy to change up into whatever style you're looking for.
So... I went on a bit of a hat binge. I made about 8 hats in a week. In defense of my sanity, several of them were made for a silent auction to benefit my nephew's preschool (awww...)... so really, there was an excuse... er, I mean, need....

This week, I had the flu, so I haven't crocheted so much as a chain in several days... but I haven't od'd on hats yet... and plan on making several more in the weeks to come.
Anyway... here are some of the hats I made last week... my own pattern unless otherwise noted.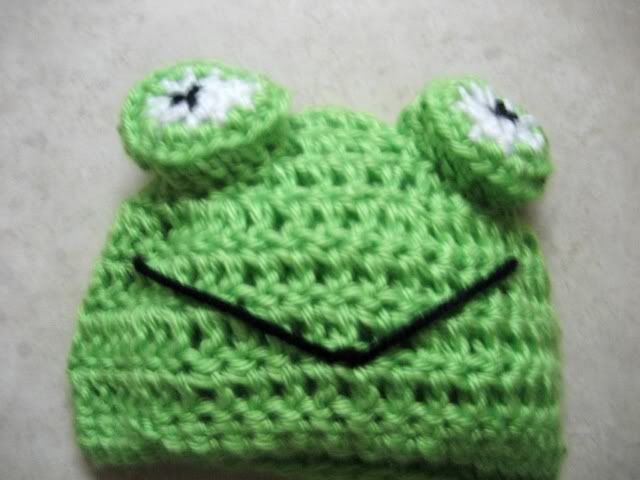 FROGGER:
This lil green guy was made in Caron Simply Soft Bright Lime with some black trim... his eyes are hard to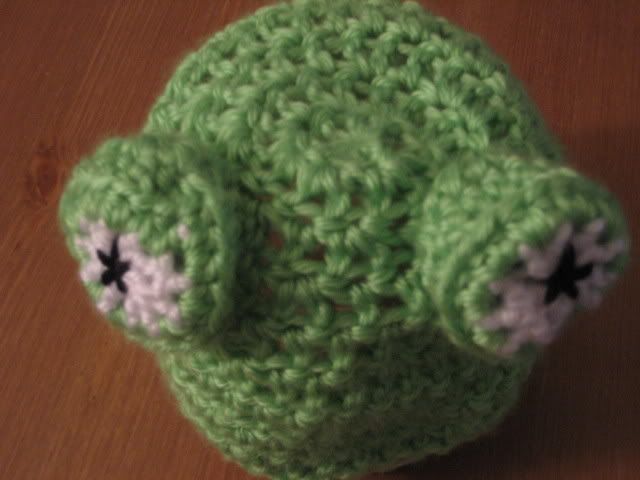 see here - so I'll post another pic, but I made his pupils as "stars". No real reason, just thought it was cute. Before he had the smile, he was looking a little alien... so I think the goofy grin really helps.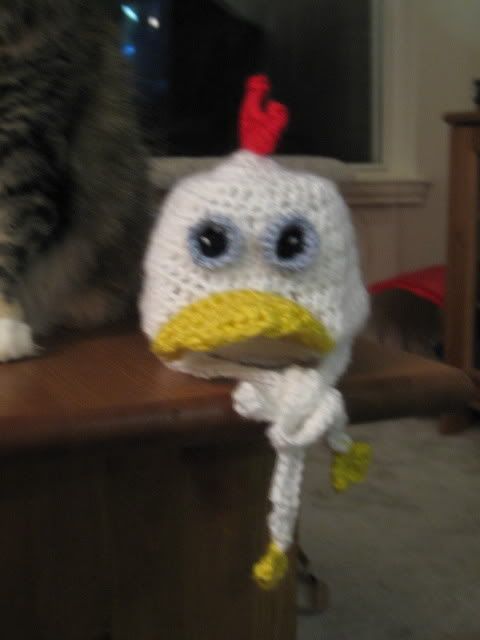 CHICKEN: This somewhat grumpy chicken is definitely his own bird. Maybe he's not thrilled at the prospect of being perched on top of a baby's head?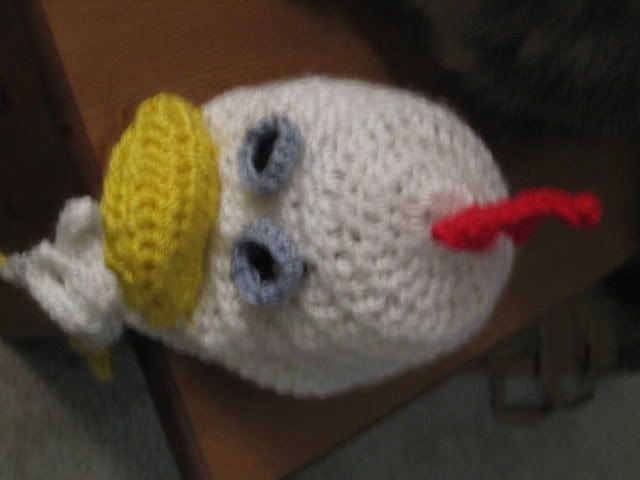 Maybe he's just a little sarcastic? I'm not really sure. I totally winged this hat (ba dum dum ching) and didn't have a plan. When I finished it, I just sat it down in front of me and stared at it. The big blue eyes stared back at me. I couldn't tell if if was the creepiest thing I ever made or the cutest. The jury is still out on that one. I used Caron Simply Soft for this one, too... for all the parts. He has ties on either side that tie under the baby's chin - they have chicken feet at the end.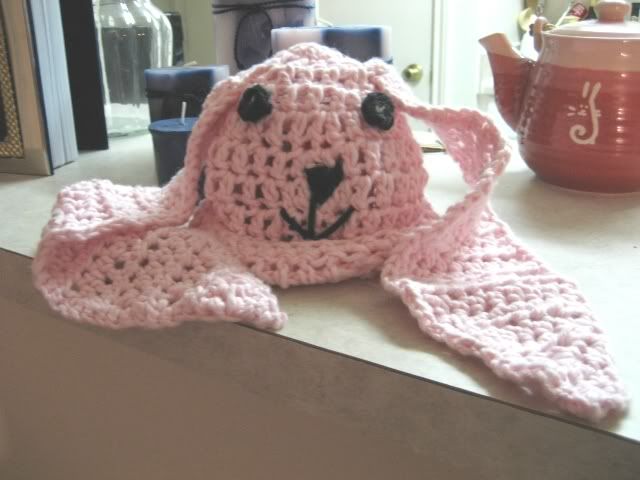 MISS BUNNY: To balance out the somewhat odd Chicken Hat... I made a pretty traditional bunny hat. This one I did in Cotton Tots. I wish that I had done the face detail in embroidery floss, because the Cotton Tots yarn was a bit too light to "take it". So, the detail on the nose cinched up the stitches around it. But... it's ok. It looks more obvious in the pic... I made the ears long and thought about lining them... but then I thought that it was kind of cute and cartoonish this way.
To balance out the baby gear... I made a bunch of adult hats...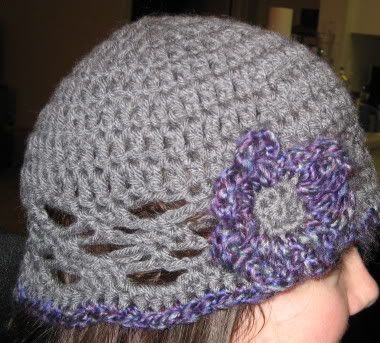 One was a cloche... that I started from a pattern, but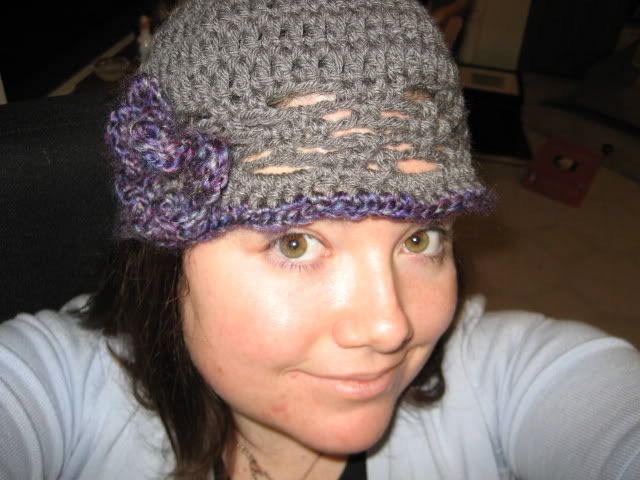 then totally frogged it and made up my own. I made it in gray and purple yarn that I happened to have lying around. I really liked the color combination... felt really vintage to me and classic. This one is also going up for auction.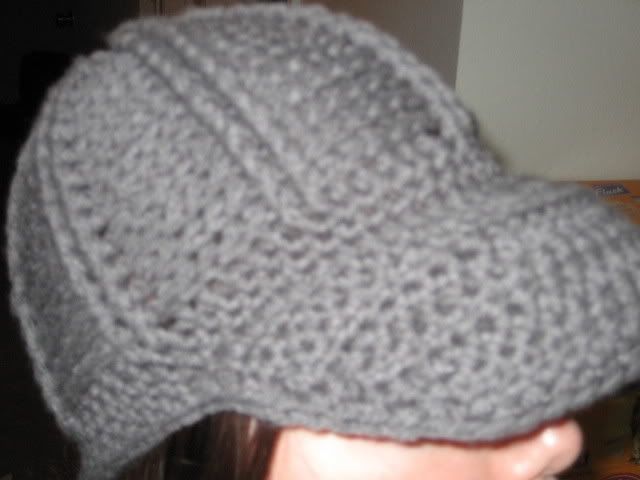 To balance out the vintage hat, I made another hat from the
city girl cap pattern
... which is very urban and hip. I've gotten a lot of requests from friends for this hat... and am going to get some cranked out hopefully in the next few weeks. They work up really quickly and the pattern is very well-written. I used the same mystery yarn as I found lying around and used in the first hat.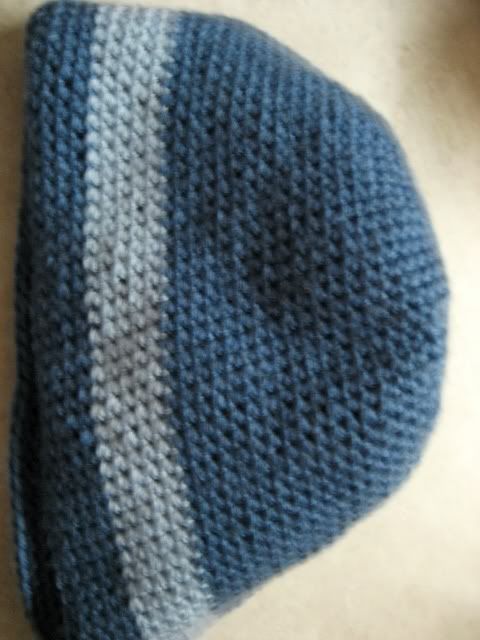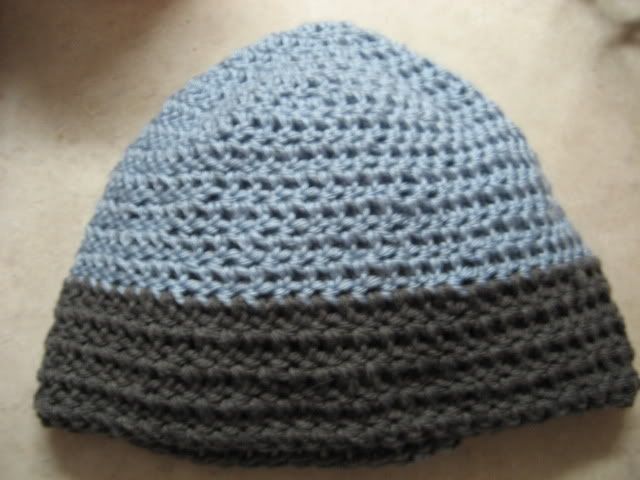 Ok... so finally, my friend had been asking me for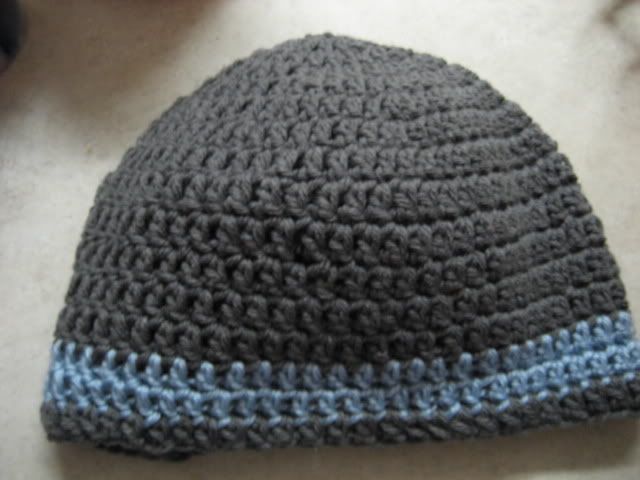 beanies... he loves one that I made for him a few years back, but needed a few new ones. Of course, when asking for them, he buttered me up by saying, "I always try on beanies at the store but they so don't fit as well as the one you made me!"
Which... true or not... I'll take it :)
So that rounds up the hats for the week... be forewarned, our next class is amigurumi... so expect lots of cute lil toys in the near future.